Reading Planet Rocket Phonics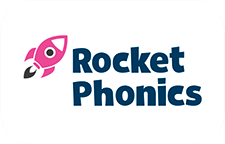 Developed by literacy experts to match the expectations of the national curriculum and Letters and Sounds, Reading Planet Rocket Phonics books are ideal for teaching under the new Ofsted Framework.
96 books for Pink A to Orange, fully decodable and expertly aligned to Letters and Sounds​
Fully decodable in accordance with the sequence of letter-sound correspondences in Letters and Sounds, and build in the common exception words specified in each phase
Developed by Abigail Steel, a phonics expert, former primary and recent advisor to Ofsted on the inspection of phonics teaching
All the books are designed to deliver on reading for enjoyment and information alongside decoding, through a rich variety of fiction and non-fiction titles designed to capture every child's interest
Download Rocket Phonics Progression Chart (PDF)
There appear to be no results for this search.
Do you wish to rerun this search with "Read, reviewed and rated" unselected?