Bug Club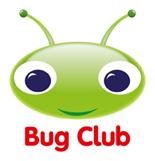 A whole-school reading programme, from Foundation to Year 6, matched to the English primary curriculum. The series includes decodable comics for phonics titles, plays for independent reading and whole class plays. It also uses licensed character fiction to engage readers.
The Bug Club Phonics series delivers whole class synthetic phonics teaching. The phonics based element is 100% phonically decodable.​
NEW! Bug Club ebook subscriptions now available. View ebooks
There appear to be no results for this search.
Do you wish to rerun this search with "Read, reviewed and rated" unselected?