PM Starters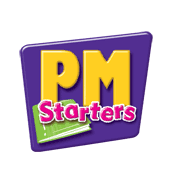 PM Starters are book band pink only titles with a larger text format, to prepare children for PM Library titles. They allow pupils to practise accurate matching of written and spoken words, with each book focusing on two or more high frequency words. There are 50 PM Starter titles available (a mixture of fiction and non-fiction).
30 favourite titles from the original series have been redesigned in this larger format with new illustrations, at Levels 1, 2 and 2/3.
There appear to be no results for this search.
Do you wish to rerun this search with "Read, reviewed and rated" unselected?