PM Gems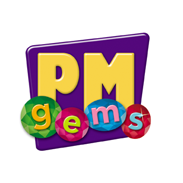 Additional titles to supplement the PM Library for early and emergent readers. PM Gems titles feature best-loved characters from the PM Library in new adventures to engage pupils. Repetition of characters, settings and vocabulary motivates young readers and helps them become successful and fluent. There are 10 gems titles available at each of the following colour levels: Magenta, Red, Yellow, Blue, Green.
There appear to be no results for this search.
Do you wish to rerun this search with "Read, reviewed and rated" unselected?